T20
On Bank Holiday Monday, our 1s XI host Hornsey 1s in the first round of this Season's Middlesex T20 – 10.30 start. At 2pm the winners play North London (who have been gifted a bye following Southgate's withdrawal). Always an excellent day, the bar will be open. Do come along if you're at a loose end. The Midd has an excellent recent record in this Comp being runners up last year and winners in 3 of the 4 previous years. Here is a reminder of our 2017 winning side -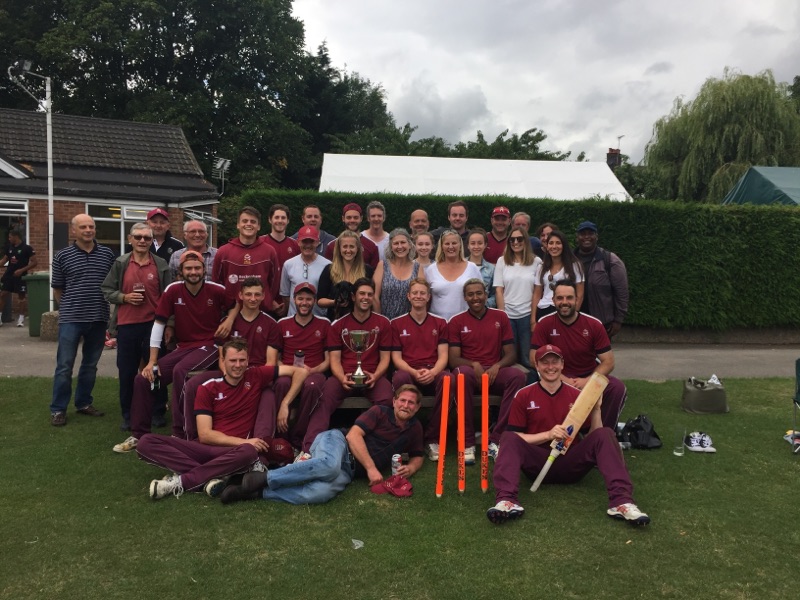 Start of the Middlesex County Cricket League
The season begins on Saturday 11th May. Make yourselves available and get ready for a huge year for our Club. Two titles to defend, another three to win. Availability emails will be sent out on Sunday. If you don't receive one, let us know asap by emailing Nick Friend . Our 1s have a tough first game away v Ealing.
Tuesday night training
Our revamped Tuesday night training has started superbly. Two cracking turnouts with proper intensity, really well led by pro coaches Sanjay Patel and Paul Frost. Don't let it fizzle out. Make the most of them and make it the norm. 6:30pm start.
Midd Fantasy League
With the start of the League nearly upon us, so is the beginning of the North Middlesex CC Fantasy League III. This involves assembling and managing teams made up of players in our 5 Saturday sides. Don't miss out on the talk of the season. Sign up, make a team, try and knock Dr. Liam off his perch.
https://north-middlesex.fantasyclubcricket.co.uk
Junior Matches/Practices
The League and Cup season is in full swing with around 20 matches already played.
Sunday morning training sessions have been well attended. A revised approach is being used this year with players being placed in smaller groups by reference to cricketing experience/ability not just age. The aim is for players to train with others of a similar level, thereby allowing the coaching to be targeted appropriately for each sub-group. Having these smaller groups should also improve the coach to player ratio.
Pop Up Food on Sunday mornings
The Junior Section is trialling this for a few weeks. The Food Van made its first appearance last Sunday and was well received by those who tried it – excellent bacon/egg/sausage baps and chips plus veggie options. See the cover pic. It will be back tomorrow (5 May) – we encourage Juniors' parents to "use it or lose it".
All Stars Programme
North Midd is running an 8 week ECB All Stars programme again this Summer, starting on 12 May. This is in addition to the Club's own programmes for 5 to 8 year olds. All Stars is designed as a fun way to give kids in this age range their first taste of cricket. We still have room for more on this programme, so if any of your friends/contacts might be interested in signing their kids up for it please encourage them to do so. Here is a Flyer with sign up details -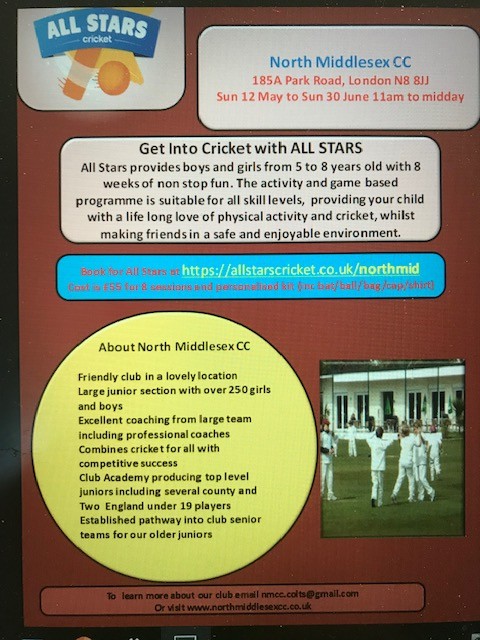 James Parslow
James is back and its great to see him around the Midd for his third Summer as our First XI overseas player. As well as (hopefully) scoring lots of runs for our 1s, he will again be helping us with the coaching of our Juniors. In his private capacity, he also offers one to one coaching sessions and here is his Flyer for those. If you would like to book any sessions please contact him direct – details on the Flyer -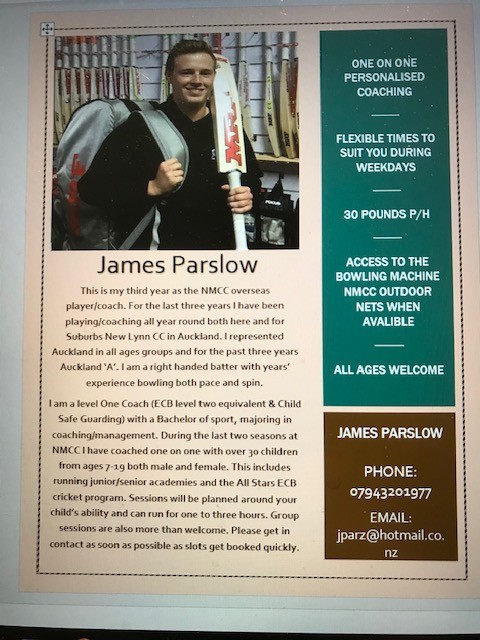 Updated 19:44 - 27 May 2019 by Nick Friend