Very exciting finish to 1s first home fixture saw us narrowly beating Finchley in a Duckworth Lewis Stern decided match. Here is the Report of that match and our other Week 2 games –
North Midd 1st XI vs Finchley (Home)
North Midd 299-5 off 50 overs
Finchley 201-9 off 33 overs
North Midd won by 17 runs (D/L/S Method)
Game 2, we were hoping to build on some good work at Ealing last week and get our first league win on the board. We lost the toss and were asked to bat first. Crackers started us off by hitting the first ball of the innings for 4! He was out trying to repeat the dose a few overs later though for 14. That brought Old Man Desi to the crease, looking every bit his 48 years. A lovely partnership ensued, 99 for the second wicket, Desi out for 51 off 55. Parslow took up the reins and put on 65 with Luke. Parslow departed for 34, stumped, attempting to up the ante. That brought Doctor Negligence to the crease, so named for his consistent professional malpractice, naughty boy. He hit a very important 48 not out off 38, including a couple of nice bombs. At the other end Luke was ever present. He played beautifully throughout, mixing patient accumulation with some lusty blows. He reached his hundred to rapturous applause and then hit 35 more in the next 9 balls. He was eventually out for 135, a personal best in North Midd colours, well played Lukey Augustus Gloopy Bonecruncher Sid Enormous Sloth Holman, a terrific knock! Liam hit the last ball for four to take us tantalisingly close to the 300 mark, merely 1 away in fact, on 299. Bird and Hughes again started well, restricting nicely and Bird taking a couple of nice breakthroughs, including removing the off-stump. We got them 90-3 when it rained after 21 overs. We sat in the clubhouse til 6.55pm and when we came back out the equation was 129 needed off 11.3. Then we had 6-7 overs of carnage as Finchley got it down to 30 odd to win off the last 3, much too close for comfort. Liam came back and did the trick though with some lovely death bowling, mixing up yorkers with slower balls, to finish with 2-18. We got home in the end by 17 runs.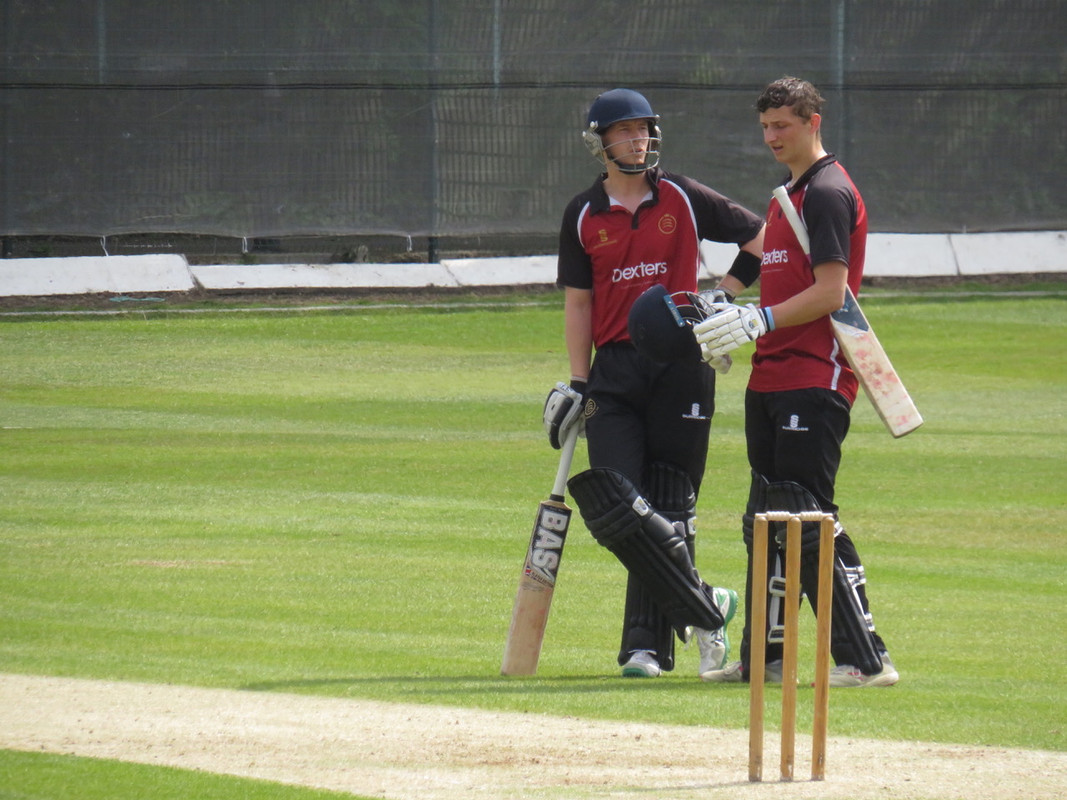 North Midd 2nd XI vs Finchley (Away)
North Midd 250/9 from 45 overs
Finchley 224/10 from 41.2 overs
North Midd by 26 runs
North Midd 3rd XI vs Richmond (Away)
Richmond 124/10 from 41 overs
North Midd 127/6 from 37 overs
North Midd win by four wickets
Two wins out of two for the reigning champions. Five wickets for Navin, three for debutant Utsav Mehla and one each for Doctor Wickets and sandpaper bandit Luke Kenna. Zulf dropped a catch. Bridgland dropped a catch. A lovely little mini-collapse with the bat, but victory secured by a pair of Utsav homers (34) and mildly useful contributions from Lake (19), Summerfield (16), Barrow (14), Cracknell (10), Zulf (1), Shep (0*). Job done. Onto Acton next week. Always a laugh there. The NAPFCG awaits. Training on Tuesday. There's a title to defend here. Good availability will help. Let's do this.
North Midd 4th XI vs MTSSC (Home)
MTSSC 217
North Midd 109
Lost by 108
After a glorious win to start the year, the 4s headed to fortress Douglas Eyre looking to make it two out of two. A crucial toss to lose we were sent out to field still a few men shorthand. The Tamils batting style was something more reminiscent of the USPGA Championship style swiping than anything reminiscent of a proper cricket shot. Dhaval bowled well on his 4s debut with the new ball and was unfortunate not to pick up any wickets in his spell. Queue the inspired bowling change as Josh Friend came on to take a wicket with is first ball, followed by a bowled friend caught friend later in the over to wrestle our way back into the game. It was the start of a classy 11 over spell with Josh finishing with figures of 5-68. At the other end after a shoddy short spell from the captain, Magnus quickly followed suit with Josh, bowling a good length and finishing with 4-43. Another inspired bowling change as Alfie picked up a wicket with his first ball back to finish on 218. Alec & Jonny led us out, in a post lunch gloom and drizzle but started brightly, with Alec opening his NMCC account with a beautiful clip off his legs for 4. The pressure of keeping up with the rate always created pressure and we unfortunately lost wickets at top regular a pace. 109 all out and a disappointing day. We move on to next week against Ealing looking to bounce back.
North Midd 5th XI vs Crouch End (Home)
North Midd 282/5 from 45 overs
Crouch End 168/10 from 36.5 overs
North Midd win by 114 runs

The 5s rocked up to Peter May for the first time this season, expecting the usual shenanigans which have previously included stumps out of line and live weeds on the wicket. As usual, the stump holes were so small that extensive use of the Christophe Mallet was required. As for the game, we were stuck in by Crouch End and, after a couple of early losses, applied ourselves well. Debutant Rohan Mer (62) and season pro Richard Nicoll (55) put us in a dominant position by drinks, Richie's knock including two swivelled sixes over backward square. Another early season BBQ bought Rohans knock to an end, but Ishan (42) looked calm as he helped the score past 200. After patting several back Charles (22) suddenly hit a couple, the unlucky bowler becoming just the second in senior cricket history to require the bomb squad. Will Frais (18) chipped in too and a big thanks to him for playing having had a school game first thing. 282 the total, looked plenty. In the field, their openers looked steady, as well as a lad at 4 that looked to belt everything. Sanjay (3/15 off 6) cleaned him up and, after that, we were comfortable. Star of the show was Nikhil Perrincherri (4/40) who continues to be a real talent. 2 great spells, lovely control and matched with wickets, 3 of which were clean bowled. Shout to Nirusha and Will who also bowled nicely. Another very encouraging day. 280 with the bat and 9 wickets taken by lads under the age of 18. North London next week as we look to make it 3/3
Updated 19:44 - 27 May 2019 by Nick Friend