"Hollman's outstanding all-round performance – the most comprehensive Man-of-the-Match I have ever seen."

Mark Williams
After his 135 last week, Luke Hollman treated us to another super show which saw the 1s defeat Hampstead by 8 wickets. Oz had set the scene by delivering a picture perfect Midd with "NMCC" meticuously etched into the outfield - see pic .
Here are the Reports
North Midd 1st XI vs Hampstead (Home)
Hampstead 142 all out from 36.4 overs
North Midd 145-2 from 30.3 overs
North Midd won by 8 wickets
On a bright, breezy morning, Hampstead won the toss, and perhaps bravely, decided to bat on what looked a good firm pitch. The new ball swung from the outset, and Ed Bird made the crucial early strike with his third delivery, removing Biddulph's leg stump (3-1, 1 run). After some aggressive strokes from Evison, Bird induced a skied leading edge from Jackson, which was well caught by Joe Cracknell, running backwards from cover (26-2, 3). Next over Joel Hughes found the edge of skipper Watson's bat to be very well caught by Liam O'Driscoll, juggling at the 4th attempt, at 2nd slip (27-3, 0). Hampstead then batted with due diligence and were just breaking free when Bird induced another leading edge from a becalmed Evison for a simple caught and bowled (43-4, 20). Redwood joined the vastly experienced and dangerous Frazer, and together they set about repairing the damage with a very positive response; North Middlesex were moved onto the defensive, perhaps a little early, for the only time in the match. Both Max Harris and O'Driscoll were put to the sword, including a spectacular six over extra cover off the back foot by Frazer. They reached a 50 partnership from 56 balls and had added 75 before the introduction of Luke Hollman immediately put the breaks on; he quickly settled onto a consistent line and length, gaining appreciable spin, and in his 3rd over, delivered a beauty which bowled Frazer on the back foot: the crucial wicket, which was greeted with whoops of joy from the fielding side (120-5, 45). In his next over (a double wicket maiden), Hollman had Redwood easily caught by Hughes at slip after a patient innings (121-6, 26), and had Walter palpably LBW pushing forward (121-7, 0). In his next over (also a wicket maiden), Pieris skied a leading edge which was well caught by Tom Nicoll at mid-wicket (124-8, 5). Nicoll's leg-spin had been introduced and he bowled an excellent first over demonstrating substantial turn; in his fourth over he had Roberts caught behind by Alex Hill, attempting a sweep (130-9, 4). Sambhi immediately hit two boundaries, but Banham could not resist a slog which resulted in yet another skied mishit, comfortably caught by Will Vanderspar at mid-on, giving Hollman his fifth wicket after 4 consecutive maidens (142-10, 2), leaving Sambhi stranded on 11. Hollman bowled outstandingly (7.4-4-13-5), delivering the ball at a significantly slower pace than in previous matches, so that none of the batsmen (including two who were set when he came on) were able to play him with any certainty or confidence. Bird recorded impressive figures of 8-0-30-3 and consistently bowled the full straight length which is so important at the 'Mid' early on; he was well supported by Hughes (7-2-21-1). North Middlesex had fielded excellently catching some difficult catches, and apart from the mid-innings resistance, were substantially in control – there were 15 wides. Cracknell took the dominant role in the opening stand with some fine driving, as Hollman steadily played himself in; the running between the wickets was always safe and aggressive between two batsmen who know each other well. There were some very strong LBW appeals against both batsmen, especially from the experienced and dangerous Banham, some looked close, but both umpires remained unmoved. Hampstead opened with the off-spin of Frazer, but both batsmen looked in control apart from the occasional swish and miss off Banham; the 50 partnership came in 77 balls when, in the 15th over, Cracknell attempted to hit a full toss inside out only to be caught at mid-off (60-1, 36): an attractive, positive and convincing innings. Evan Flowers, as is sometimes his wont, attempted an ambitious shot early on and skied to cover (73-2, 4). James Parslow immediately settled in and looked comfortable, but was happy to get off strike and let the increasingly assured and dominant Hollman take control. The latter reached an impressive 50 from 88 balls and then cut loose, thumping several fours with disdain and finishing the match with a resounding straight drive for 6, so that North Middlesex won by 8 wickets in the 31st over. Hollman finished with an excellent and disciplined 71 not out, Parslow with an unselfish 21, and they added 72 in 76 balls. Overall, an impressively assured performance against an upper- half-of-the-table side, on a pitch where 220-240 looked a realistic par first innings score at the start. At 120-4 in the 27th over with two batsmen well set, Hampstead looked well placed to exceed that; such was the importance of Hollman's outstanding all-round performance – the most comprehensive Man-of-the-Match I have ever seen.
Here is the Lad receiving his well deserved applause. What a player!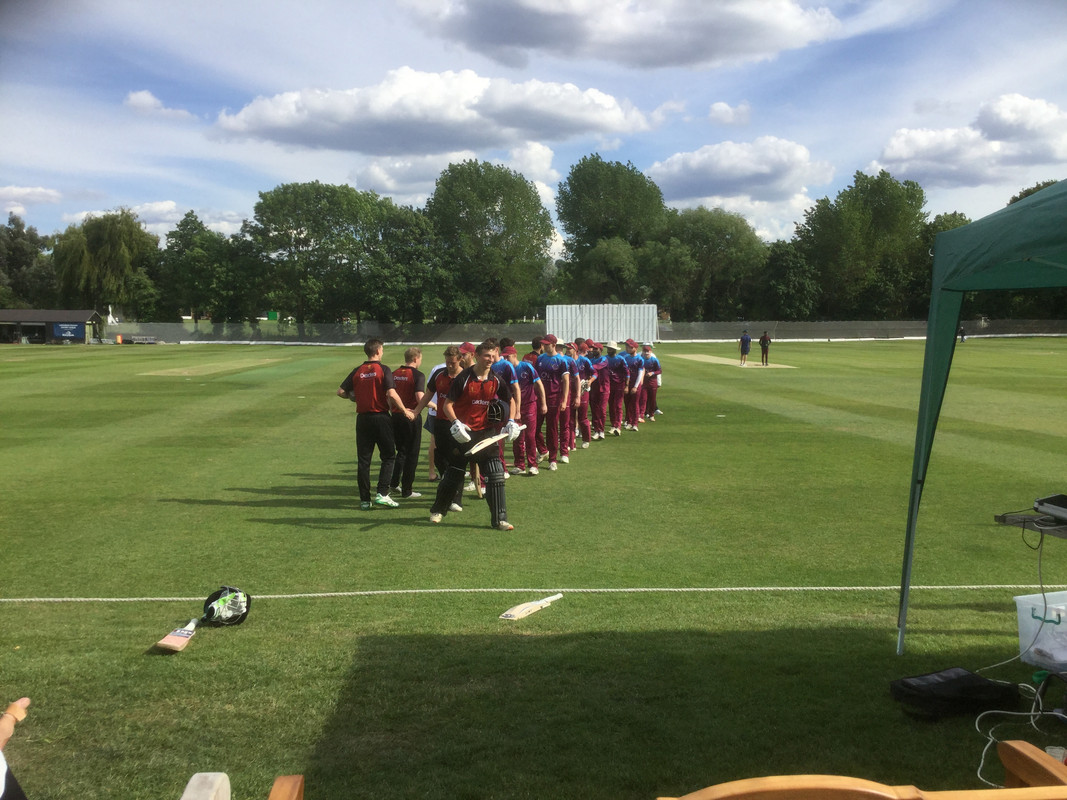 North Midd 2nd XI vs Hampstead (Away)
North Midd 161 all out from 40 overs
Hampstead 162/9 from 36.1 overs
North Midd lost by 1 wicket
This week Park Road's finest boozers travelled to Hampstead to play our third game of the season with Cracknell and Howeld returning to the fold. With the knowledge that Teesdale was off to galavant around the Austrian Alps at 6pm, captain cat suggested that we bowl first on a pitch that at first sight did not look too dissimilar to the road on which we had entered the club on. Unfortunately it wasn't Mills decision in the end, and the middies were invited to bat. Wee man and Nursey were the first two gentleman to don the pads, but we lost Con 3rd ball as he hit the ball onto his own wicket (he just loves taking poles). Shirls and Chad (Chid) put on an attritional 32 for the second wicket till Shirls got hit on the (thigh) pad one too many times and was sent packing.All the while Mayo had been going along nicely reaching 48 with a particular favouring for the third man region. Alas "The condiment" suffered a similar to fate Shirls and was hit on the leg and invited to walk back to the changing room. Mills and hairdresser Yorke Starkey adopted Mayo's swing hard mantra, but with less success, as they were out heaving and hoeing to leave the score on 95-5.Cracknell and Chambo came together and started to tick the score around very pleasantly to take us into three figures (and about level with Chambo's Oslo statistics). Unfortunately Matt too was hit on the high part of his legs, and fell yet another victim to the finger of hampstead's umpire. Henners followed a few overs later, in a dismissal that would sit somewhere between foam and a baby's bottom on the softness scale. Chambo was undeterred though and guided us past 150 with some glorious square drives. Helpful and most importantly aesthetically pleasing contributions from Lowe, Tees and Duke saw us to 166, Chambo the last man out for 26. Issues relating to tea chronology followed, firstly when tea would commence, and secondly when tea would conclude. There were blurred lines specifically concerning the latter, as Hampstead tucked into us in the first 5 overs as they reached 50 for no loss. Each boundary celebrated with a 3 bat taps between the hampstead openers, and a kiss on the cheek. The (civil) partnership for the first wicket was broken by Connor who wisely adopted the "hit them on the pads ploy" on what would turn out to be three separate occasions. A Yorke Yorker did for their number two and together Nurse and the returning mountain conqueror Hugh ripped open the Hampstead middle order. Nurse finishing with miserly figures of 9-6-7-3 and Teesdale with 2-38. Duke returned to the attack from the top end and with help from a lovely second slip shlurp from Chad (Chid) sent two hampsteadians back to the hampstead hutch to leave the score 108-8. The clock struck 6 and we were down to 10, but still feeling confident as ever. Over the course of the next half an hour though, confidence became complacency, and to quote a wise man "we let the bees out the jar". Hampstead's number 10 houyed us to various corners of the ground and was aided by the 25 no balls bowled . The runs required snuck down and down until, with the scores level Chambo was handed the ball and made a breakthrough, HCC 161-9. The number 11 tried his best to get out charging the final two balls of the over, but alas he failed, and Bennets knocked a single off the first ball of the next over to clinch Hampstead the victory and conclude a top game that the Middies have traditionally come on the right side of in the last few years. A smooth journey back for almost all, and some smooth beverages to weaken the Hampstead blow followed. Onto She Bu at home next week, be there or be square.
North Midd 3rd XI vs Acton (Away)
North Midd 292-4 from 45 overs
Acton 193-7 from 45 overs
North Midd won by 99 runs

Captain Cracknell lost the toss and was invited to bat on what would prove a slow, flat, goose faeces-ridden surface. Lake and Downing strode to the wicket with all the purpose of Rory Stewart entering the Conservative leadership contest. Lake whacked the first ball of the match past square leg for 4 and looked to be going along swimmingly, before he snicked what has since been described as "the only good ball of the day". Enter Tom Barrow, North Midd's Australian adopted son. Three times Downing hit the ball aerially to the leg side boundary. Three times he was put down. Downing was eventually stumped for 71, bringing Utsav to the crease who struck a few nice homers before dancing past one. Enter Daoud Mohamed. The boy can play. 45 runs off 28 balls a wonderful contribution. At the other end, Barrow brought up his 100, eventually finishing 110*. What a lovely player. 292-4 off 45 overs. After a delicious tea, Acton set about chasing the target. Buxton got 2 wickets, Price 2, Utsav 1 and Dre 1. We won by 99 runs. 3 wins out of 3. 30 points. It's Hampstead next week. Be available.
North Midd 4th XI vs Ealing (Away)
Ealing 323/4 from 45 overs D.Bhatnagar 3/59
North Midd 289/10 from 44.2 overs C.Langdale 80 K.Pittman 48
North Midd lost by 34 runs
One win and one loss in the bag, the North Midd 4s travelled out to Popefield Playing Fields to take on the recently relegated Ealing 3s, who'd made light work of their first two fixtures. The destination proved to be hard to find, KP getting led to a back entrance and forced to hop a sharp fence, Jonny found a different ground and Joe James was still at work so hadn't even begun to look. Skipper Tom G had broken his sober Saturday streak and was feeling worse for wear, but took the chance for the 10 man 4s to bowl first when the toss went his way. One of the Midd's newest additions Dhaval took the new ball and immediately got to work putting the ball in nice channels and causing a couple of problems for the big left handed opener. The least broken of the Friend clan, Josh, took the other end and while he was getting some nice shapes on the ball, his line and length was struggling to find a rhythm which allowed the Ealing batsmen to get some quick early boundaries on an absolutely flat deck. They took off and it was hard to stop them as a lightning outfield meant that anything through the ring was almost definitely a boundary. Luckily Josh found a lovely length and nicked off their opener who'd been timing the ball very well, finding Charlie's big ol' bucket hands in first slip. Dhaval persisted with good line and length, going for occasional boundaries but mostly kept it tight, sadly wicketless in his first spell. When Joe James finally arrived 16 overs into the first innings, and with the openers starting to fatigue, the skipper brought himself onto bowl with a full stacked roster of fielders. Unfortunately the internal tidal pull of the previous evenings pints seemed to put off his compass, as he failed to find his length and the large Kiwi opener tucked into anything loose. New boy Danny Holden and Magnus Pierre were brought on and much of the same lack of rhythm meant that the fielders were put to the sword, fetching a lot of balls from the fence and watching half volleys whizz by. The opener and the number 3 both reached their centuries, with very few risks taken and a lot of excellent shot making on display along the way. Too many extras and a lot of runs scored did dampen the spirits of the North Midd fielders, but when Dhaval came back on for his second spell at the end of the innings, he was clearly feeling alright. He earned himself the scalps of both set batsmen, as well as that of the number 5, trusting himself to keep attacking their stumps. He finished with 3/59 from his 12 overs which was a superb effort considering the 45 overs ended up going for 323. At tea, the Midd 4s were aware that they had a large task ahead of them, but they knew that it was within reach on a flat batting pitch and with a solid lineup of batsmen. Joe James and Jonny Gould went out and faced up to their openers, who didn't seem to be much of a problem as we went along nicely at 6s, which was still below the rate but with a lot of wickets in hand was setting a nice platform for the chase. At 57/0 with both batsmen looking comfortable, and Jonny's lofted drives getting ever more expansive, a cruel twist of fate left him run out at the non-striker's end as a straight drive from Joe deflected off the bowler's hand onto the stumps. Joe tried to push on with new big man Charlie Langdale at the crease, making it to 85/1 before he also fell clean bowled for a beautifully made 40. A man who's no stranger to 4s run chases, KP, came in to try and do his best to accelerate the innings and build on the platform that had been set. As the Ealing bowlers started to tire in the muggy heat and lines started to waver, the two batsmen took their chances on the bad balls and pushed hard for a lot of 2s, much to Charlie's delight. Overs would go for 9, then for 7, then for 6, then for 8 and this switch in momentum was building up hope that this chase was believable. Charlie passed his maiden North Midd 50 and started to cleanly hit the ball, KP was finding gaps and running hard, making good use of the large square boundaries. As the partnership passed 100 and the Midd were poised at 187/2, disaster struck and a ball nipped back through KP's bat/pad and cleaned him up. Arjun came in and while the big Langdale was still there, we had hope that some big hitting could get us across the line. Soon after though, Charlie hit a ball through cow corner that was happily going for 6 and had no right to be pouched by their diving Kiwi, but he took it with two hands and put an end to a great innings of 80 by the new boy. Arjun, Louis, Magnus, Josh F and Dhaval all came to the crease over the next 10 overs trying to lead us to an enormous victory, but with the ball softening and all the fielders retreated to the boundary, the chase became just a step too far, with the boys falling short at 289. Over 600 runs in a 4s game is a massive effort from the lads and knowing that we came this close to taking a win from probably the best side in the league means good signs ahead. Onto the next week, where we'll be back at the fortress to take on Twickenham, Up The Fours!!!
North Midd 5th XI vs North London (Away)
North London 5s 125ao from 40 overs
North Midd 5s 126-6 from 27 overs
North Midd 5s won by 4 wickets
The 5s had the strange experience of an away match at the Douglas Eyre Sports Centre. You see North London 5th XI and our own 4th XI share the ground, rather like AC Milan and Inter Milan share the San Siro, but with more geese. Anyway, Charles lost his third toss in a row and we were in the field. AT and Nirusha opened up and kept things tight, a task not helped by only having 10 men. The 5s thought they had their first breakthrough when their opener nudged one to mid off. Charles attacked the ball with the ferocity of a smiling puppy but produced a brilliant direct hit and their umpire raised his finger. Except this gesture was apparently to point to the crease and demonstrate that the batsman had made his ground. Dubious. Their openers got to 54-0 before Nirusha enticed one of them down the wicket and bowled him. What followed was a bit of a procession. Nirusha had the other opener caught well at short cover by Alec and there was a proper run out too. Nikhil came on and bowled well and could easily have claimed more than his two wickets. However, the plaudits of the day went to Tom Francis. His leg spin was simply too much for the North London tail. He thrice combined with Charles with Richard also taking a catch to remove their skipper, who was providing stubborn resistance. North London folded to 126 and Tom Francis finished with figures of 5-12 from his 7 overs. He was well supported by Nikhil and Nirusha as the 5s bowled 31 overs of spin in all. After tea, Atula and Will Frais set about knocking off the runs. Will also deserves a mention for his fantastic 'keeping. He dealt with the variable bounce very well and was sharp behind the stumps to all the spinners. He added 28 runs before being bowled. Atula fell in a similar fashion but Nikhil, batting at 4, steadied the ship. However, a batting collapse is never far away. The next 4 wickets fell in the blink of an eye and suddenly North London were back in the game. Alec became the third batsman to be bowled while AT managed to lob the ball to midwicket with the back of his bat. Nikhil fenced one to gully and Richard gave a return catch to their young leg spinner. This brought Charles and Tim Oon to the crease together. They showed great composure to take the singles on offer and put away anything loose. Cricket can be such a simple game sometimes. They both finished unbeaten 17 as the chase was completed with a dose of overthrows. A comfortable victory in the end. 10 points, a 5.30 finish and a win over some local rivals. If only every Saturday could go this smoothly.
Updated 19:46 - 27 May 2019 by Nick Friend