""There's a bowler who understands exactly what he's doing and the importance of accuracy on a poor pitch" "

Scott Newman, T.ham opening bat about Joel Hughese
Here are the Match Reports from Week 4 of the League Season -

North Midd 1st XI vs Twickenham (Away)
North Midd 292-8 from 50 overs
Twickenham 177 all out from 31.1 overs
North Midd win by 115 runs
On a gloriously hot and sunny day, North Middlesex won an important toss and elected to bat on this attractive village-green ground. The grass cover on the pitch looked sparse and liable to result in inconsistent bounce, but pitches here tend to play better than they look, and the outfield is very fast, which results in decent totals. Sohi tried to bowl as fast as possible, and began disastrously, conceding a brace of 5 wides and a no ball in his first over and 17 runs from his second, so that the visitors got off to a flier: 42-0 from 5 overs. Joe Cracknell was in particularly impressive form, but he was badly dropped at cover, running back, on 15. As usual, the running between the wickets was aggressive and confident, but the vagaries of the pitch meant that both batsmen played and missed quite a bit, so it was no surprise when Luke Hollman was caught with deceptive ease by Scott Newman at slip off the left-arm seam of Donnelly (44-1, 10). Cracknell responded with a flurry of boundaries, including two in the potentially dangerous left-arm spinner Singh's opening over. Meanwhile Evan Flowers essayed one of his customary early over-ambitious lofted drives and was dropped on 4 by mid-off running back. Both batsmen needed no further invitation, and set about compiling a commanding partnership of 113 from 137 balls which took the game away from Twickenham on a pitch where the occasional ball bounced excessively, and there was consistent turn. By now, Cracknell was batting with assurance and command, punishing any loose deliveries severely, with particularly impressive cover driving, and reached his 50 in 61 balls and his second Premier Division century in 98 balls. Flowers was content to play second fiddle, and unselfishly scored 16 singles; he was dropped again from a powerful drive at mid-off before attempting one lofted shot too many and was caught in the same position (157-2, 38). James Parslow began with a brace of boundaries but was soon caught at short fine-leg (184-3, 14). Cracknell continued on his commanding march, and with Will Vanderspar soon into his stride, the pair put the hosts to the sword in a partnership of 80 from 60 balls before Vanderspar was comprehensively stumped off Singh (264-4, 34) – the running between the wickets was noticeably less incisive though. In the frantic 'do or die' last 5 overs, Tom Nicol holed out at extra cover (278-5, 8), Cracknell's masterful innings ended with a skier to long-off (282-6, 142), Liam O'Driscoll was bowled (282-7, 0), Ethan Bamber was caught at cover (283-8, 1) and Joel Hughes and Alex MacQueen were undefeated with 7 and 2 respectively. 292-8 was a commanding total on such a pitch, although, perhaps unsurprisingly after the start, the visitors failed to double their 30 over score (160-2). For the hosts, Donnelly (4-45) and Guiraud (0-39) were the only bowlers who found the consistent length and line required on this pitch to ask questions of the batsmen. Scott Newman was immediately into his stride, mixing studious certain defence with imperious driving off both front and back foot; he looked like a Test player in a Prep School match, and was particularly severe on Ethan Bamber. Hughes, however, had the experience to bowl the right length at a slower pace; Newman nonetheless lofted two disdainful straight drives for 4 and 6, but the bowler had the last laugh when Ed Bird skilfully judged a difficult catch at long-off, just staying within the rope, from a well-hit drive which would have cleared the boundary (32-1, 29) – it was the defining moment of the game. Maintaining his nagging length, Hughes immediately had Manuwelge caught at backward point by Hollman (33-2, 1) and Leale-Green held at mid-on by Bird (33-3, 0) in a double-wicket maiden. Carlos Nunes – the heart and soul of the Twickenham Club for many years, and a consistently dangerous attacking player – had opened and been unusually becalmed by Hughes, who ended the former's agony by having him caught behind by Cracknell (38-4, 5). This brought skipper Hussain to the crease, and he was immediately dropped at mid-off off Hughes on 0 – an expensive miss as it turned out. Your correspondent was surprised by the captain's decision to take himself off at this point ('when you have the opposition by the balls, squeeze hard' was always my motto), but maybe his advancing years meant that he had run out of puff. It was an outstanding spell – a masterclass of how to bowl on a helpful pitch, giving the batsman nothing loose to hit, and bowling a miserly probing length and line (6-3-12-4) – three of his victims holed out. Thereafter, Hussain looked confident and secure, timing his off-side strokes pleasingly well. O'Driscoll came off after a couple of expensive overs, and in his second over, Bird induced Rhys-Davies into yet another 'hole out' to Vanderspar at mid-on (77-5, 7). Alex MacQueen had Sohi caught by Bamber also at mid-on with his 3rd delivery (82-6,1); Field came in and tucked into Bird, but was then adjudged LBW to MacQueen (96-7, 9), and the same bowler completed a double-wicket maiden when he bowled Guiraud (96-8, 0). Hussain looked on ruefully, but took 14 from Bird's last over with relish; at long last he found a partner in Singh who was prepared to attack with a little more selectivity. In a mere 61 balls, they attacked the spinners remorselessly, Singh playing a series of swashbuckling sweeps and pulls mainly at Hollman's expense, and Hussain continuing to bat with elegance, reaching a fine 50 from 36 balls. In the 30th over, the score had reached 179-8 (19 more than the first innings), and such was their total dominance, that the visitors looked a tadge rattled. At this point Hussain uncharacteristically attempted a reverse sweep off MacQueen and was easily caught off the glove by Nicol in the gully (172-9, 60) – an impressive innings which showed his charges what was possible if they had tempered their aggression with selective defence. In his next over MacQueen ended Singh's defiance by taking a simple return catch (177-10, 44), ending with impressive figures of 7.1-2-22-5, despite bowling throughout the 9th wicket stand; he turned his off-spin consistently and bowled with admirable control. North Middlesex had triumphed by 115 runs, and dominated the game from the outset, only wobbling slightly towards the end. It had been another excellent team performance, holding all but one catch, and fielding and running between the wickets athletically for the most part. How different it might have been if Twickenham had held on to the two highly catchable chances offered early in the Cracknell-Flowers partnership which so changed the game. There was so much to admire in the 'Mid' performance, but Cracknell's mixture of youthful exuberance and flair and Hughes' 'cunning fox' of a spell will live long in the memory. (PS: Scott Newman remarked ruefully just after he was dismissed: "There's a bowler who understands exactly what he's doing and the importance of accuracy on a poor pitch" – he knew deep down that he had blown his own side's chances and thrown his own innings away after a great start.)
Some more pics courtesy of our good friend Conrad Williams -
Joe C scooping Carlos Nunes -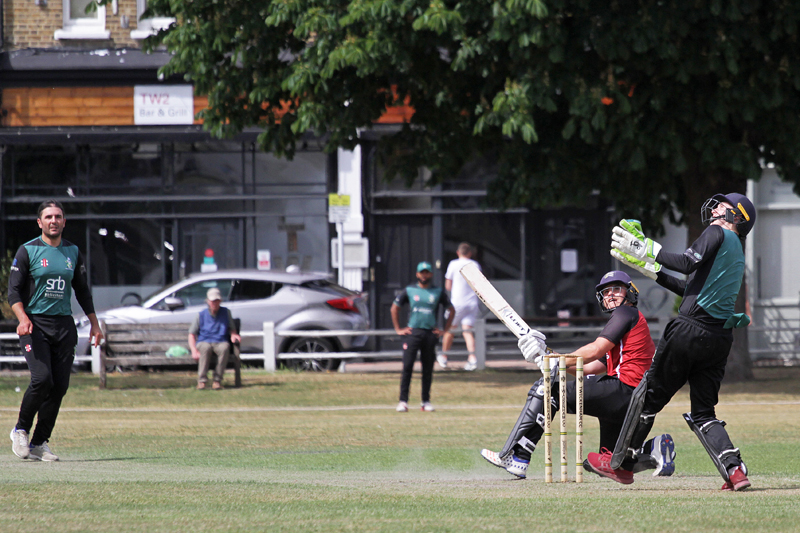 Classy spinner Alex McQueen in action -

---
The North Midd boys walking off after sealing their win -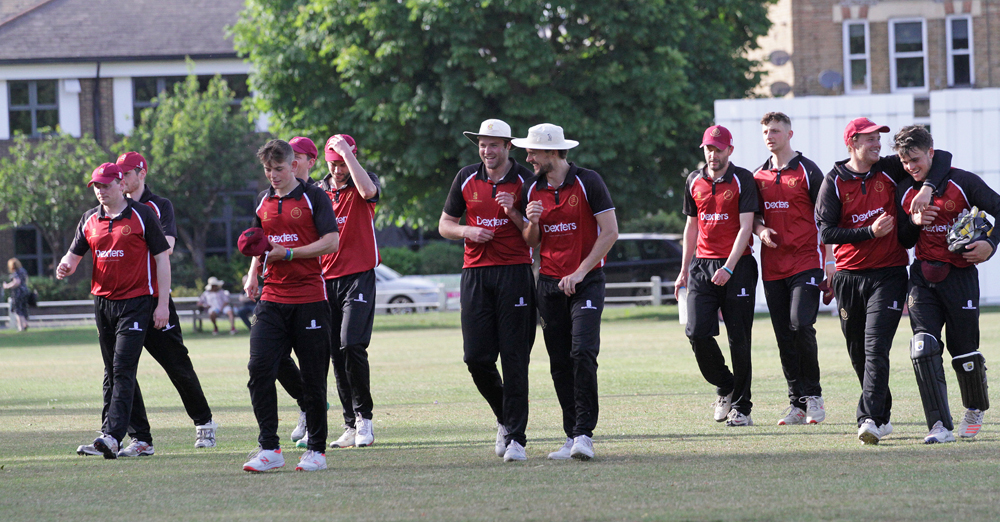 North Midd 2nd XI vs Shepherds Bush (Home)
North Middlesex 283 for 8 (45 overs)
Will Chambers 104, Kaurab Akhtar 3-39, Miles Illingworth 2-43
Shepherds Bush 170 All Out (34.2 overs)
Kaurab Akhtar 52
North Middlesex won by 113 runs
No Report available
North Midd 3rd XI vs Hampstead (Home)
Hampstead 177
North Midd fewer than 177.
Match report by Charlie, for upload: The day started with a 03:58 message from Utsav, photo evidence of a beer injury with Tiger Tiger stamp clearly in view. Surprisingly laid back approach from the skipper, keep that one in the locker for future hangovers. Beautiful day at the Midd, 25 degrees, bright blue skies, the decision bowl predominantly made on the quality of afternoon sport on Sky. Despite pristine batting conditions, the openers got stuck in, Surtani removing the opener for 0 which brought in some lad who apparently has a Middlesex County contract in to bat. Didn't help him as Luke provided us with a sight rarely seen in the flesh, a cartwheeling off-stump, simply lovely. Their opener played stubbornly, blocking everything whilst capitalising on a few bad balls but couldn't stop the rot at the other end with wickets falling like clockwork at seemingly 15 run intervals. Drinks after 17, don't think I've ever had cordial with ice during a cricket match, clearly moving up in the world. We kept taking wickets, they kept hitting the bad ball. A combination of sharp keeping from Chambers and nagging length from Dre cleaned up the tail. Our batting started brightly with boundaries galore however if we're honest our top order didn't cover themselves in glory. Skip played around a straight one whilst Langdale pumped one to gully. Stent continued to hit boundaries and our American import hit two beautiful boundaries. However Hampstead then brought on some loopy leg-breaks and I've never actually witnessed someone's eyes light up from 70 yards, but Daood took the bait and was bowled first nut. After Stents dismissal for a debut 40, it pretty much went downhill. Apart from Dre's muscular 13 everyone else was out for single digits. The fines committee, which to the teams credit was very quiet first half, rightly so went to town on the batters. But more so Magnus, who gets changed in the car park, and then wandered around in full pads but wearing flip-flops. 2 pints fine. Disgrace. Bring on North London.
North Midd 4th XI vs Twickenham (Home)
Twickenham 274-9
North Midd 155-7
Twickenham Won by 119
A youthful 4s side headed out to Douglas Eyre on a dry looking pitch against a Twickenham 3s. A bad toss to lose, Twickenham chose to bat and got off to a decent start. Danny Holden bowled a very solid opening spell beating the bat but his first Midd wicket eluded him. From the other end Shay got us the early breakthrough rapping the openers pad, 38-1 and a decent start. After the opening burst of pace and with Twickenham's batsmen looking set we turned to spin for the middle overs. Tom Francis bowled a nice 12 over spell and deserved more than the one wicket he got. At the other end Tom G bowled a decent spell picking up 2. What was to follow, to end the innings was truly one of the most extraordinary spells of bowling in North Midd history. Alex Thomas, arguably bowling a pace even slower than the spinners before him, began charging in, constantly harassing the batsmen for not being ready and began banging in the short half trackers thinking he was Jofra Archer against South Africa. Luckily the ball was so slow, these dribbled along the ground and didn't get above knee height. The umpire apologising to the batsmen as he begrudgingly had to give him out trapped in front. When he wasn't bowling half trackers, the aggression continued with the odd beamer sprayed in, warning number 1. The next few overs followed the same theme of half track wickets and beamers. Two wickets and 2 warnings. Charging on for his third over, another half track LBW for number 3, followed by the only passable ball of the spell cleaned up their batsmen to leave him on a hat-trick. In true jug avoidance style AT threw a wide down leg that ball, but the best was yet to come. A 3rd beamer the next delivery and the oppo removing him from the attack for "dangerous bowling" (something AT was quite proud to hear). A wide on a hat trick and getting himself pulled out the attack on a five fer. 3.2 overs 4-30. The worst 4fer I have ever seen. 5 or a hat trick would have been a travesty. Danny came back for his 2nd spell and picked up his first north midd wicket as their skipper walked for a glove down leg despite no appeal, what a way to open your account. 274 to chase on a decent Douglas Eyre pitch. AT's interesting day continued with a duck trapped in front and triggered by the skipper umpiring. A lap of sulking followed and a first contender for strop of the day. Will Frais (26) and Alec (17) looked solid to start the innings but fell as we pressed to try and keep up with the rate. In came 4s honorary vice skipper for the day, Charles who set about playing a captains innings and killing any chance of us keeping up with the run rate. Wickets fell around him, Nico our second contender for post bat strop of the day, with kit all over the place after chipping one to the bowler but Charles kept going. A decent knock but fell on 49. He didn't appreciate the send off he got from his own skipper on his way in with a "you clearly don't count, that was 49". Jug avoidance candidate number 2 and strop of the day candidate number 3 as he kicked a chair. Another captains innings was not to follow as Tom heaved past one 2nd ball, but unlike the rest of the batsmen left the pitch to "at least we will be back for the final" Shay and Tom Francis ably annoyed Twickenham batting through our full 45, 29 red for Tom F to cap off an impressive day. 155-7 but we definitely enjoyed our day more than they did in winning. On to Shepherd's Bush next week.

North Midd 5th XI vs Edmonton (Home)
Edmonton 0
North Midd 1/0
Edmonton Conceded
Rumel Miah hit the winning runs in a classic at Peter May. Whilst the captain was away avoiding jugs at Douglas Eyre, the grey jogging bottomed seamer was far too much for Edmonton. Huge game next week against Brondesbury. Two teams on maximum points. Be available
Updated 15:40 - 3 Jun 2019 by Richard Nicoll