"Cracknell's innings towered above everything else, however; with 10 fours and 5 sixes at over a run a ball, he mastered both the bowling and the never-straightforward conditions for the second successive week. "

Mark Williams
What a talent Joe Cracknell is! Still only 18 and North Midd grown, he followed his 146 last week against Twickenham with another match winning knock of 130 this time against Stanmore.
Here are match reports for Week 5 matches -
North Midd 1st XI vs Stanmore (Home)
North Midd 236 all out from 48.1 overs
Stanmore 148 all out from 40.3 overs
North Midd won by 88 runs
A blustery day with some sunshine greeted the players arriving at the ground, where the effective sheet covering was just being removed from the large square. The pitch looked dry and firm, but there would inevitably be some underlying moisture, and so it was no surprise when Stanmore won the toss and asked North Middlesex to bat. Joe Cracknell and Luke Hollman began busily as usual and the former was quickly underway with a beautifully executed off-drive, followed two balls later by a sumptuous straight drive for 6 (a real 'in-form' shot). Elech, formerly of Ealing, especially, bowled with the control necessary to keep the batsmen quiet, with the ball seaming just a little, and both batsmen played and missed quite often trying to get him away. It was therefore no surprise when he had Hollman caught behind (21-1, 5). Cracknell looked in imperious form and continues to play very straight reaching his 50 in just 39 balls with 5 fours and two sixes. Here he is playing a perfect drive - this and the other photos in this Article are courtesy of our good friend Conrad Williams to whom we send many thanks -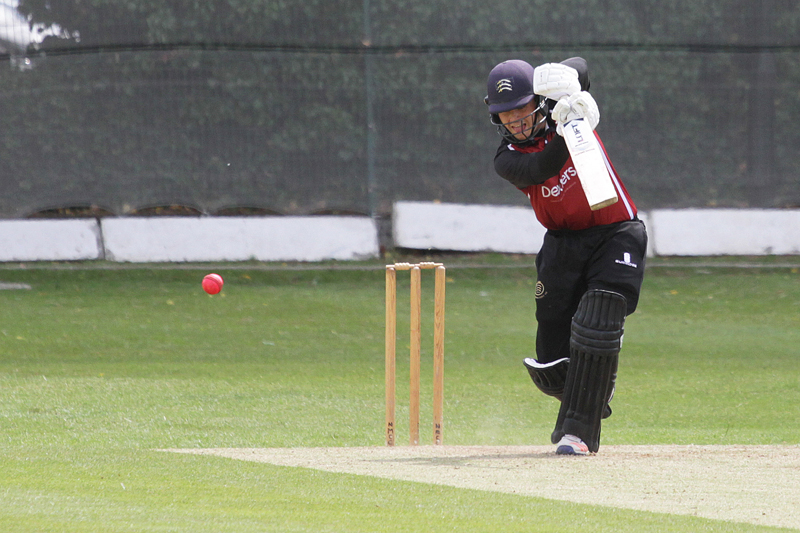 The veteran Marc Rheingold (the heart and soul of Stanmore Cricket Club for over 25 years) was introduced with his timeless mixture of slow-left-arm straight and arm-balls. He soon picked up Flowers at mid-wicket from a careless flick (70-2, 12), and he continued to keep both batsmen in check. Cracknell was now batting with real command, however, and with James Parslow happy to play second fiddle for the second successive week and allow his partner most of the strike, the pair put on 85 in 64 balls, before Parslow was brilliantly run out by a direct hit from skipper Karia (155-3, 32) in the 30th over. Just before this, Cracknell had reached a really impressive century from just 87 balls, and he continued to play with real authority and flair. Tom Nicoll scored entirely in singles before Steven Rheingold had him caught behind (178-4, 7), and in the next over Alex MacQueen was also caught behind off Karia (179-5, 1). Rob Fahrenheim joined in the fun, hitting 2 sixes of his own before Cracknell's master-class finally came to an end when Marc Rheingold, returning for his second spell, immediately had him well caught at mid-wicket after an uncharacteristic slog (213-6, 130). The same bowler picked up Max Harris two balls later at extra-cover (213-7, 0), and Elech pinned Fahrenheim LBW in the crease (214-8, 18). There were still 6 overs left, and the 'Mid' had collapsed miserably. Alex Hill and Joel Hughes ran well between the wickets adding 22 before the former was caught and bowled by Marc Rheingold (236-9, 8), and two balls later Hill was comprehensively 'castled' by Mullahdazah (236-10, 9), leaving the 'Birdman' stranded on 0. There were still 11 balls remaining, and the visitors had taken 8 wickets for 81 runs in 19 overs. The 'evergreen' Marc Rheingold had been outstanding (9-0-27-4), and Elech (10-0-46-2) had never been easy to get away, and the hosts had fallen 80 short of doubling their 30 over score. Cracknell's innings towered above everything else, however; with 10 fours and 5 sixes at over a run a ball, he mastered both the bowling and the never-straightforward conditions for the second successive week. 'Fortune favours the brave', and there were a couple of lucky breaks, but he alone ensured that the 'Mid' had scored a competitive total.
The outfield was inevitably slow, but with some high-quality batting in the opposition line-up, the Mid's supporters wondered whether it would be enough. The Stanmore reply began with a double whammy in Ed Bird's first over when he pinned Azam on the crease and pushed a ball inside Steve Eskinazi's (Middlesex CCC current 1st XI) forward prod to win two LBW decisions in an otherwise wayward over! (3-1, 0)(5-2, 2). Three overs later, Hughes had the dangerous and confident Steven Rheingold walking across his stumps and playing to leg to elicit another LBW decision (14-3, 8). The experienced Elech then joined the classy Anshy Rath (current Hong Kong international captain, and scorer of 70 against India in a full ODI), and the pair of them moved onto the attack; the former scoring in singles and the latter gracefully driving off both front and back foot. They had added 61 in 70 balls, punishing Harris and Nicoll severely, before the introduction of MacQueen's off-spin pinned Elech palpably LBW (75-4, 12); in his next over, a similar fate awaited Harper (87-5, 5),(this surely has to be the first time ever in the history of the Middlesex League at any level when the first FIVE dismissed batsmen have been LBW!!). The introduction of Hollman's leg-spin immediately resulted in the smart stumping of Grant Rheingold by Hill (92-6, 3) in the 21st over. Rath had reached an elegant and commanding 50 from 49 balls and continued to look to score; his partner just blocked, however, and, perhaps in frustration, Rath skied a marginal long-hop from Hollman to be well caught by Nicoll at mid-wicket (107-7, 60). Here is an action shot of that - key coaching point - eyes on the ball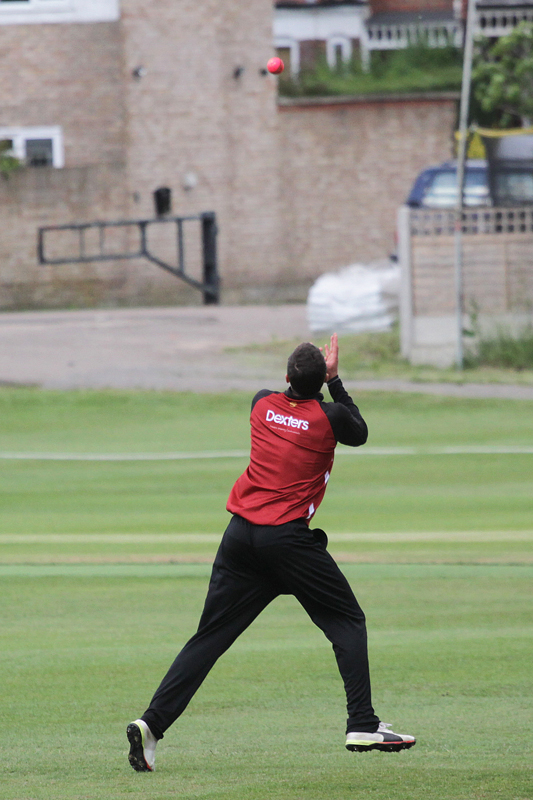 Brock's defensive innings came to an end when Cracknell threw down the stumps after a misunderstanding (119-8, 15), and Hollman bowled Mullahdazah having a slog (126-9, 1). Here is an action shot of the run out featuring celebrants Nicoll and Parslow -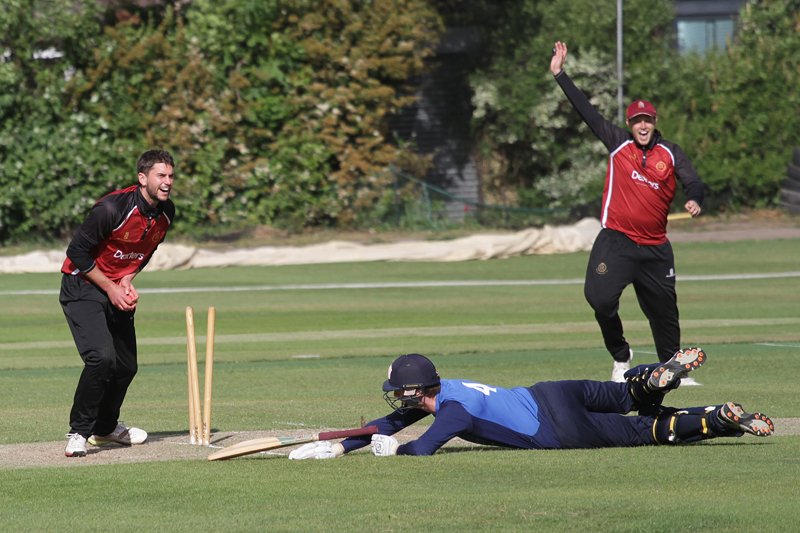 The returning Harris then spectacularly removed Karia's middle stump to end a sensible last wicket stand (148-10, 17), leaving the erstwhile untroubled Marc Rheingold stranded.
North Middlesex had therefore won comprehensively by 88 runs, but the Stanmore batting had enough experience, talent and quality to have been capable, on another day, of achieving the target. Bird's outstanding initial contribution (bowling just two balls full and straight), coupled with MacQueen's miserly and wonderfully controlled spell (8-2-11-2) and Hollman's dangerous leg-spin (10-2-25-3) had done the job, and there were no dropped catches but 11 wides.
Therefore, a fourth consecutive win, against good opponents, keeps North Middlesex in 3rd place behind Teddington and Ealing as the format changes to 'timed' cricket next week.
Report courtesy of Mark Williams
Also from Mark
PS. Lesson for the week: this may seem harsh but… when on 130 not out and with the opposition at your mercy, don't attempt a filthy slog first ball when the opposition's best bowler returns to the attack with 8 overs still to go. It precipitated a serious collapse.
PPS. Puzzle of the week: Why did Marc Rheingold bat at 11 (he has famously organised many successful rear-guard actions in the past): he would have been the perfect foil for Rath coming in at 8?
PPPS. Question of the week: How did (3-1, 0) become (5-2,2) two balls later if Steve Eskinasi was the second man out, but was the non-striker on 2 not out at the first wicket?
North Midd 2nd XI vs Highgate (Away)
North Midd 280-8 45 overs
Highgate 281-4 43 overs
North Midd lose by 6 wickets
"A good day to be playing away" – famous last words from Hellman's most famous condiment as the 2s hopped over the road to Highgate for the battle of the podium places. It would've been a good toss to win but it didn't go that way. So inserted we were, on a deck that had been under covers since Thursday. Highgate hoping their army of doublers would be able to find a bit of early movement. The opening exchanges featured an extraordinary three left handers, with Nursey facing off against two left armers. Equilibrium was restored pretty swiftly as Nursey played down the Victoria line with the ball riding the Overground to lose his off stump. Rev reliably informs us it did it bit. That brought Torch to the crease who continued last week's clean striking with cover drives, on drives and pickups all on display. Chambo bombed the first change twice in his opening over before forgetting the three strikes and you're out rule and playing all around a straight one to be adjudged LBW. So ended a 40 run partnership featuring just two singles – perhaps some work to be done on rotating the strike. Chad and Torch ticked things along nicely before Mayo managed to kick one from outside leg on to his stumps, a might unfortunate way to go.
North Midd's favourite feline strolled to the crease, having earlier reported that he fancied a few runs this week, which was to be the first of several excellent predictions. Torch continued to go well before snicking off to a grubbler for a well struck 40ish. He needed to so in order to make one of the finest predictions I've ever heard from the sidelines: the opener back on bowling to Mills, sweeper out at cow, "Millsy will hit this one straight down cows throat", and sure enough he did. Kindly, the bowler had decided to overstep. A gift that Millsy more than made the most of as he sauntered to a century. Some powerful hitting and selfless running at the end got us up to 280 which seemed a good total, especially given the stickiness of the wicket early doors.
That prediction turned out to be quite a long way off the mark… What followed was quite simply a masterclass in club cricket chasing. By this stage the wind and sun had restored the Highgate deck to it's usual road-like nature. Once again, the oppo got off to a flier… 50 odd for 0 after 6. Once again, we reeled them back as Alfie managed to bag the first wicket. Then, not much happened. Except they just kept things ticking over at 6 an over without looking to be in any trouble at all. Bit of a shame that one of the batsman decided to shout misfield at the fielder every time he hit the ball but aside from that, it was difficult to fault them. We didn't too much wrong with the ball but never really found an opening. It was great to have such a large crowd for the last dozen overs to keep us believing but strive as we did, we couldn't find a breakthrough to enable us to squeeze the run rate. Highgate ended up making it home with a dozen balls to spare around 4 down. A tough game against a good batting line up on a ground that it's incredibly difficult to defend on. The timed matches begin next week, if we can rekindle the spirit of 2016 and get a good run through those we'll be well in the hunt for a record-breaking fourth come the business end.
North Midd 4th XI vs Shepherds Bush (Away)
North Midd 100/10
Shepherds Bush 103-1
Shepherds Bush Won by 9 Wickets
The 4s headed away this week to Chiswick to take on a Shepherds Bush side who are looking strong in the table in need of a big 10 points. To say the day didn't get off to the best start is an understatement with the skipper in need of a pre-match nap after a big night before and Tom Francis needing to make a last minute run to Sports Direct in order to purchase a new set of whites. Although Tom was not to be outdone as our opening bowler Danny Holden managing to get on the wrong train so ending up in Barnes and also forgot his top. Some more money for the fines pot at the end of the year.
Another toss lost and the middies were inserted on a wet dog to bat. Fresh off the plane from Lebanon for the week, Richard Verity proceeded to cut one to cover leaving us 0-1. Fresh off his viscous bowling spell last week Alex Thomas strode to the crease at number 3. It has to be said that AT didn't quite treat his batting with the same level of aggression. 3 off 67 balls before rapidly accelerating his run rate with a bomb straight down the ground which took everyone on the pitch by surprise. With credit he did slightly pick up his scoring rate to finish with a respectable 30. At the other end Alex Sydenham ably supported with a nice 21. After they departed the mid innings collapse began, 84-3 became 84-7. If you had thought the amateur hour theme had ended you would be completely wrong. The skipper unable to comprehend the scoring system on a hangover was caught only in his pants by the time number 10 had skyed out, the oppo asked for timed out even though he came in not wearing socks and only one pad strap done up but Joe James turned down a solid appeal.
Unsurprisingly, the tail were quickly dispatched leaving us 100 all out. Opening the bowling in only a borrowed jumper Danny looked solid again bowling a decent line but by this point the pitch had improved and looked decent to bat on. The young spin duo of Tom Francis and Nikhil came on and were turning it nicely. Nikhil took the lone wicket in the innings managing to take a caught and bowled with his thighs to keep the village theme of the day rolling. Overall not a great day at the office but on to a huge game and the start of timed cricket vs Hornsey next week.
North Midd 5th XI vs Brondesbury (Away)
North Midd 263/5 from 45 overs
Brondesbury 126 from 36.3 overs
North Midd won by 137 runs
The 5s travelled to Kenton to face Brondesbury in a top of the table clash. Availability had been poor, but some cancelled school games on Friday had at least left us with some extra quality from the Juniors, with Jack Richards and Nathan Laddie making debuts.
Charles lost his fifth consecutive toss and we were inserted on a damp deck. Atula was out very early, missing a short delivery which clattered into leg stump in a fashion last seen on the PS2 when EA released Cricket '04. From there came as good a partnership as the 5s has seen - Rohan (133) and Alec Dawson (90) played unbelievably well in putting the many bad deliveries away but not getting out on such a slow and two paced wicket. Rohan mixed watchful defence with powerful aggression and cleared the ropes at deep mid wicket as he brought up his 50, then his hundred with a village moment, beating the fielder on the rope over his head, yet still only scoring 4. Alec went some way past a Midd best of 17 and looked extremely comfortable, channelling inner shades of Munro and Neesham to put the Brondesbury attack to the sword. The partnership reached a simply astounding 242 in 40 overs before Alec was run out attempting a second, ten shy of what would have been a deserved hundred. The incoming batters helped us scramble to 263, a really good score given the wicket.
After comfortably the worst tea in history, so bad we had to self-fund a visit to Tesco, Sanjay (1/31) and Binas opened up, both asking regular questions of the opening pair, who remained resolute. Sanjay made the breakthrough, with an excellent tumbling catch by Jack at midwicket. Nirusha (2/18 from 12) bowled a fine spell, offering nothing to hit and narrowly missing out on a hat trick. He made the key breakthrough, having their opener who made 45 caught by Richard and could easily have had 5 wickets. Jack (2/24) chipped in too, cleaning up his man. Two bizarre run outs followed to leave the hosts on the brink at seven down. 15 points for Atula, 15 for Binas. Having given 10 overs warning about bringing himself on for a burgle, the skipper (3/11) did just that to nick the final wickets. Disgusting, disgraceful, no one likes him he doesn't care. An emphatic win at the end of one of the most challenging weeks of availability. Onto the timed games next week, with the 5s top of the league.
Updated 17:23 - 13 Jun 2019 by Nick Friend